Having perfectly-shaped and well-defined eyebrows are the key to achieving a look that is sure to catch attention. They complete your look whether you prefer to go bold with your makeup or go natural. Thankfully, you can now achieve your dream brows through eyebrow microblading, an amazing treatment for thin and sparse eyebrows.
With the professional team of our experienced and seasoned microblading artists here in, you can now enjoy fuller, well-groomed, and natural-looking eyebrows.
What is Microblading
Brow microblading is a semi-permanent cosmetic treatment that enhances the look of any brows, no matter the shape and thickness of your eyebrows. Our expert microblading artist use a very precise, blade-like tool to make your brows appear fuller or coarser and more defined. This happens as tiny incisions are made in your brow area to implant the natural pigments into your skin.
Unlike the permanent brow tattoo, we use a natural colour pigment that is different from the traditional tattoo ink and it does not go deeper into the dermal layer of your skin. Thus, microblading is a semi-permanent treatment only that give your eyebrows a more natural-looking effect.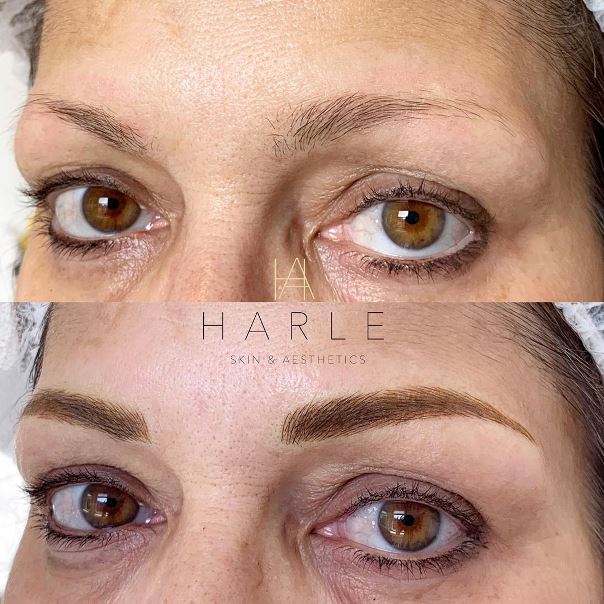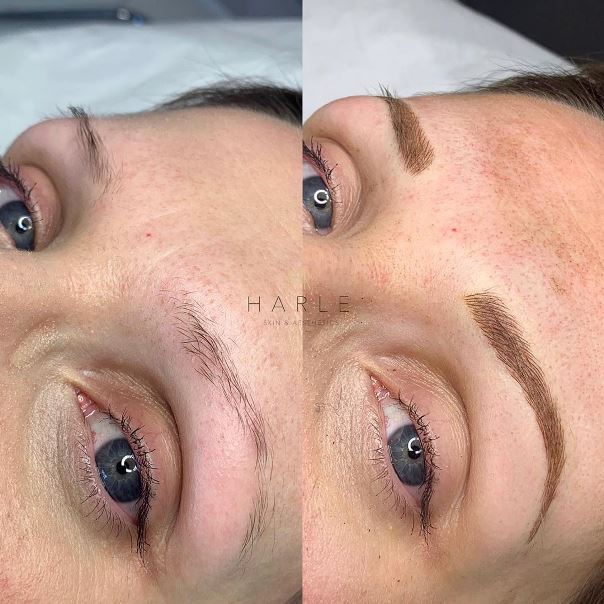 Microblading Eyebrow Procedure in Kent
Before any cutting begins, our technicians always see to it that the treatment area is sanitized first and numbered, if needed. Our microblading specialist will then closely consult with you on the specific shape of brows you hope to get during the final results.
While you can bring some photo as a sample of the brow you wish to have, our microblading experts will take into account your face symmetry, the direction of the natural hair growth in your brows, and other factors to determine the best final look of your microbladed brow. This is necessary so that you will have an outcome that looks natural and real as your original brows.
One more thing about microblading is that our technician will skillfully draw individual hair stroke into your skin, a technique used to make your microbladed brows appear more natural. This detailed procedure may last as long as two hours.
The key to achieving your perfect brows is a dedicated consultation with one of our microblading artists wherein you will talk about the specific pigment colour you want. Usually, we recommend choosing the colour that resembles the natural colour of your brows and matches your skin tone.
Once the pigment has been agreed upon, the next thing to determine is the shape that best improves your brows. Your final choice will then be drawn by our skilled technicians using a special pen. Depending on the severity of your brows to be treated, the procedure may cover only about 45 minutes or even less.
The last step is to apply some ointment in the treated area to make the healing process more convenient. In case it is needed, your next visit to us is for a touch-up, which is usually about 4 to 8 weeks following your first appointment. A touch-up is important to tweak the results of your microbladed brow in which our technician may also change its shape or add more colour if you desire.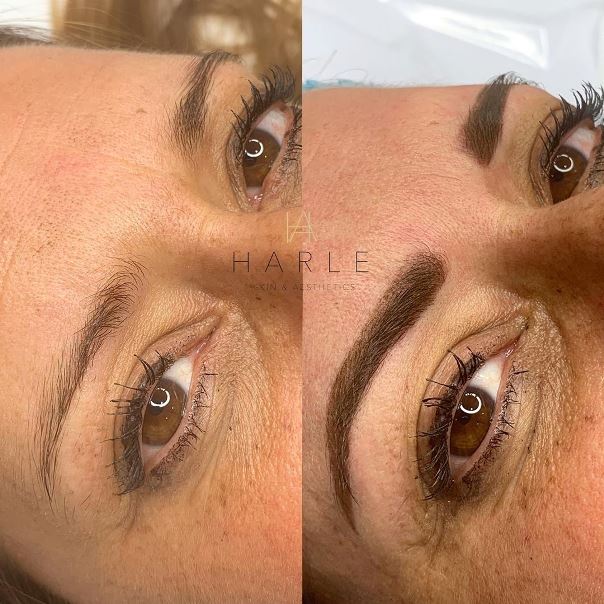 The Results of Microblading in Bromley
One specific advantage of microblading in Bromley over other brow enhancement treatments is that it provides longer-lasting results that can last up to 2 years long! Majority of us admit that pencilling our eyebrows every single day can be tiring. So, if you are also tired of always grooming your brows after a gym or in the middle of a busy day at work, the amazing result of our microblading is the solution you are looking for.
In the first few days after your microblading procedure, the effects of the treatment changes. In the first week, your microbladed brows will look darker than you wish for. But no worries though because it is pretty normal as your skin is reacting to the pigments. This is where a touch-up is essential so that our technicians can make necessary adjustments, providing you perfectly-looking brows for a year or two.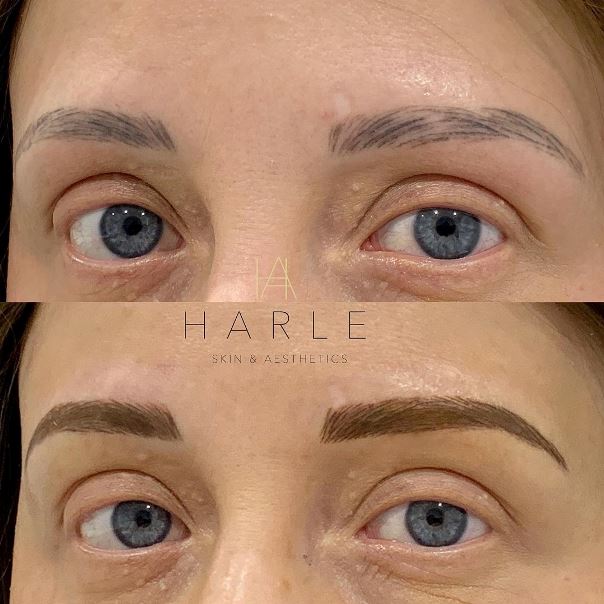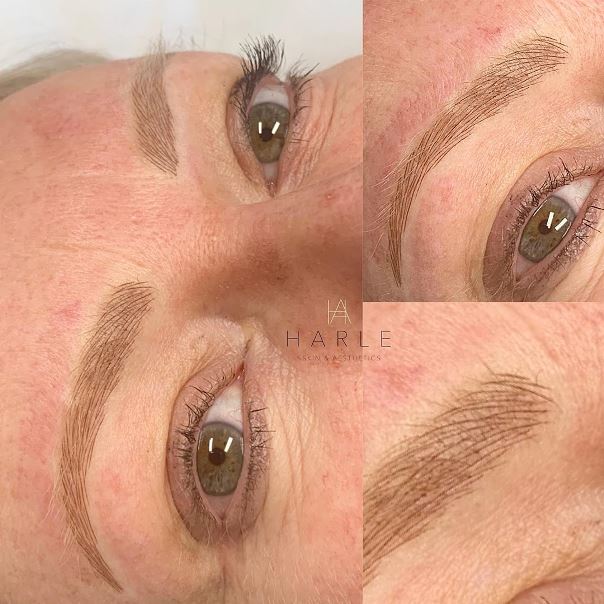 The Best Microblading in Artist
3D eyebrow microblading by Harle Skin & Aesthetics is specially designed to make light brows look darker, sparse brows appear fuller, and transform the shape of brows into a more defined, naturally-looking facial feature.
So, if you have some gaps in your brows or you just want to have a perfect arch, microblading is a great treatment for you. It can spare you plenty of time pencilling and perfecting the look of your brows every day. Our microblading can give your brows more definition and thickness without the effort.
In terms of pain, it depends on your pain threshold but you can compare it to getting a tattoo, to a lesser degree. You don't have to be worried about the pain though as there are topical numbing agents that our microblading artists can use to make it comfortable for you.
In fact, most of our clients find the amount of pain quite tolerable even without some anesthetic. Some of them even have fallen asleep during the actual procedure and just wake up to a wonderfully made brows.
So, if you want to achieve the best possible results of microblading in Bromley, trust only the expert hands of our artists. Each of our microblading technicians has years of experience and proven expertise in creating the best-microbladed brows possible.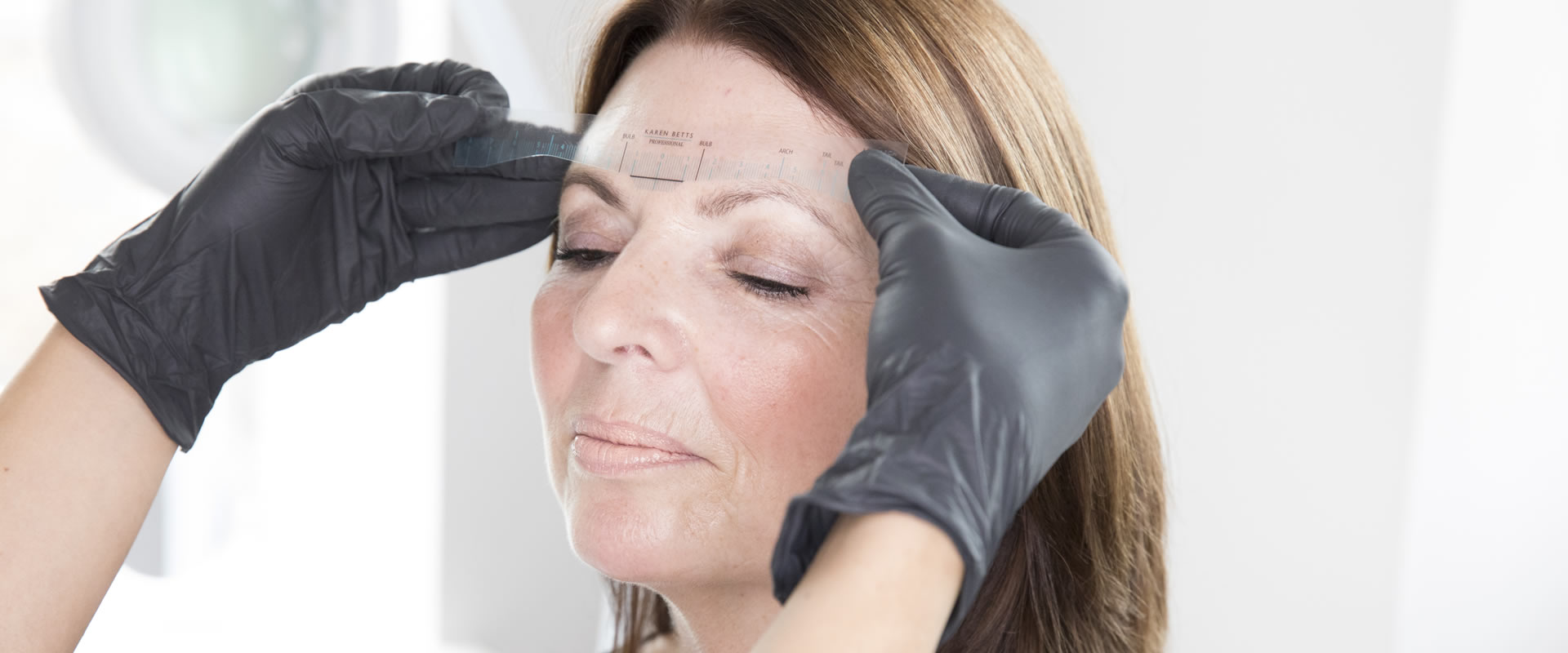 If you have any questions at all, please feel free to give me a call or send me an email.